CHROMAPLEX™ Bond Sealer #2
Protective, nurturing treatment cream to stabilise and strengthen hair bonds.
How it works
CHROMAPLEX™ Bond Sealer #2 is a protective, nurturing treatment cream that stabilises the strenghtened bonds formed in step 1. Applied after the colouring/chemical/treatment process to maximise hair strength, Bond Sealer helps seal the hair shaft for smoother, sleeker, more vibrant colour results. Follow with step 3.
How to apply
Use CHROMAPLEX™ Bond Builder #1 first. Rinse, then apply a small amount (approx 7.5ml) of CHROMAPLEX™ Bond Sealer #2, comb through and leave to process for approximately 10 minutes (depending on the condition of the hair). Rinse thoroughly and style your new, beautifully conditioned hair as normal.
Suited to
For damaged hair or for use during the colouring process.
Strengthening hair treatment formulated with Fibre Bond Technology and anti-breakage benefits.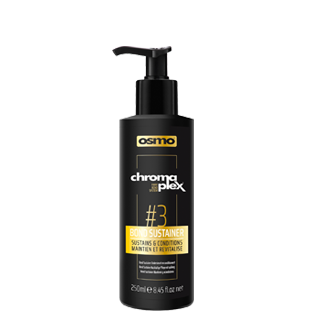 An ultra-conditioning 'at home' treatment with Fibre Bond Technology.